CALL 1-800-799-0049
Advertiser Center
Welcome to MortgageBrokerYellowPages.com, the broker's resource dedicated to helping independent brokers promote their business, attract new customers and drive qualified borrowers to their properties.
MortgageBrokerEstateYellowPages.com can put your business in front of thousands of customers that have an immediate need to apply for mortgages in their area. Your listing will be shown when a customer searches our directory for a mortgage broker your area.
MortgageBrokerYellowPages.com offers several ways to get your business in front of targeted customers.
Mortgage Broker Listings Options
Platinum Listing- Enhanced listing that will appear in the city of your choice. Placement is by seniority at the Platinum level.
Listing includes:
Your business name in BOLD letters
4 lines of your business description
Telephone and Toll Free numbers
Your business address
Links to your E-mail address and website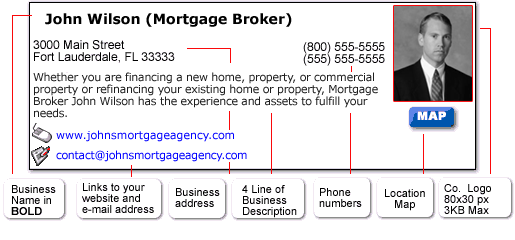 Banner Advertising
Banner advertising is available at a cost of $25 per 1,000 impressions and is sold in increments of 10,000, 25,000 and 50,000.
We offer 2 type of banners:
One 468x60 banner on top of every page. You can target your banner to show in one or more city search.

125x125 Feature ad showed on the right side of every page.

To Advertise on MortgageBrokerYellowPages.com email us at:
ads@MortgageBrokerYellowPages.com
Prices and placement subject to change. LocalRealEstateYellowPages.com reserves the right to refuse any advertisement or listing.